From Newbie To Very Profitable...
What does it take to become a very profitable affiliate marketer?
Never promote just one product! Build up to at least 10 products to be promoted at any given time.
As an affiliate, you will want to build up to around 10 products so you can be mixing things up. You'll be able to mix up the top-performing products and add in the latest releases. While you should like or relate to the products that you're promoting just don't become too invested or attached to them... don't be wed to them, here's why!
What may be top-earning hot sellers today may not be in the same standing a week from today. Things that were hot may cool down rapidly, so always be ready to adjust your promoting strategy! If you follow trends, then you need to be ready to move on at a moment's notice!  Trends come and go! You don't want to add all of these products at once...
Don't overwhelm yourself
You don't want to overwhelm yourself with products, pick your products carefully. You always want to choose products that are popular and that are performing well because you want to have top-performing products to promote!
Here are just a few things to remember when you are choosing products to promote. For instance, when you're searching for new products to promote from let's say Clickbank, there are certain things that you'll want to look for.
First and the easiest is the category selection from which you want to work from within. For example, each affiliate product will have information that will help you make your decision a good one!
Which Sites To Use
There are 3 sites that I recommend that you use to ascertain if a product is a good seller and if it may be a possible product you want to promote and they are:

Clickbank Marketplace
Here are things that you will need to know about when using Clickbank Marketplace.
Sale Price: ($/Sale) This is the amount that affiliates are earning for referring customers. The amount earned is kept by Clickbank accounting and pays out every two weeks to the affiliate
Referral %: This is the percentage of sales that people you refer
The gravity of the Product: The gravity number is the most important number in my opinion because it shows the popularity of the product over time. See, every time the product is sold or a new affiliate joins and uses the link the gravity of the program will change. So the higher this number is the better and the hotter this product is. When this number exceeds 15-20 it's doing pretty good, but you will see really hot sellers go way above that number.
Percentage of Sale: (%/Sale) This is the average percentage of commissions earned per affiliate per sale.
CB Trends
The price, popularity, and commission paid for the product are very important. When it comes to popularity or the gravity number (unless you're already a Super Affiliate) it is advised that you avoid any product with a really high gravity number (125+). Although this is a great gravity number, this just simply means that there is a high volume of competition for you, and the chances of you making a sale drop accordingly.
This ONLY applies to Clickbank and not any other commission-driven organizations out there!
In order to really find out if a product is right for your affiliate arsenal, you will want to check it out at CB Trends (www.cbtrends.com) first. This is a free service, so don't worry about getting your wallet out... wink wink
This service shows a visual representation of what is on the Clickbank Marketplace site, making it easier to understand for any new affiliates in here just starting out!
Useful Tracking Tools
There are some really useful tracking tools that give you an easy way to see what's going on with a product that you may be interested in promoting and they include:
the popularity of the product
percent per sale
referrals
gravity
earnings per sale
commissions
Now if you combine the information you get from Clickbank Marketplace and the visual representation you see on cb trends then you will have a really good idea if the product that you are wanting to promote is a good match for you or not.
As a rule of thumb, you want at least 6 out of those 10 products that we talked about earlier to be popular products, as not every product you promote will turn out to be a popular one, and that's a good thing.
You want to stay mixing it up so that at least half of the products you are promoting are the more competitive products (the ones with the higher gravity numbers) and the other half should be products that are up and coming ones (products that are newly launched and don't have much in the way of numbers to go by).
This way you have a mix of both because if you only choose to promote high gravity numbered products then you are competing with a whole lot of other affiliates and in my opinion that can very easily overwhelm you, especially if you are new to affiliate marketing.
CB Engine
CB Engine shows you the new products and is an excellent tool to use if you just want to focus on the newly released products. If you are planning on working with Clickbank, which is a really good first step into the affiliate arena, then CB Engine should be one of the sites that you bookmark and use often.
Here's the thing I like about CB Engine, it has a brand new products list, re-listed products with an absolute wealth of information to help you make an informed choice about the products that you want to promote.
Each product, new and re-listed, have graphs and visual representations about the health and viability of each of the products! I really like looking at graphs.
Finding Out More About The Product You Want To Promote
There are a couple of ways of finding out more about the product or service you are about to start promoting.
Well, first, you can buy the product... <== Not the way I know a lot of you'd like to go!
I know by using the 10 starting products (mentioned earlier) it could become a bit pricey! So here you'll want to only buy a couple of products. Don't spend more than you can comfortably afford to spend. For the rest of the products, just look over the sales pages for information that you'll use to promote them.
Whether it's a digital or tangible product, buying and experiencing the product will usually make you a better promoter, and by doing this you can then create videos about what you think about the products and put them on a YouTube channel. (this will get you more free traffic as well)
When looking over the sales or pitch page you'll want to think in terms of being a prospective buyer. Ask yourself some basic questions: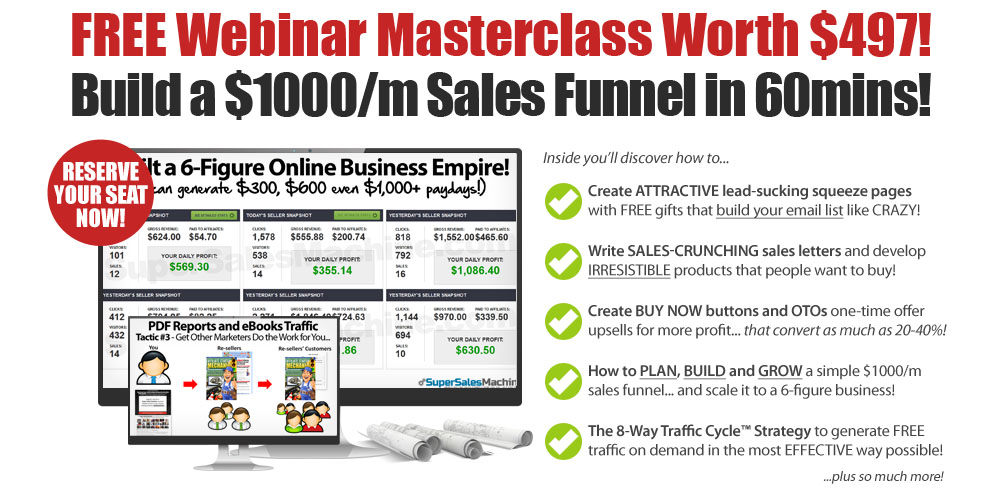 The information contained within this masterclass will blow you away! If you are really wanting to break into affiliate marketing then you will eventually need to know all about sales funnels. These guys are the best when it comes to explaining how to build out a funnel. And it's FREE to watch!!!